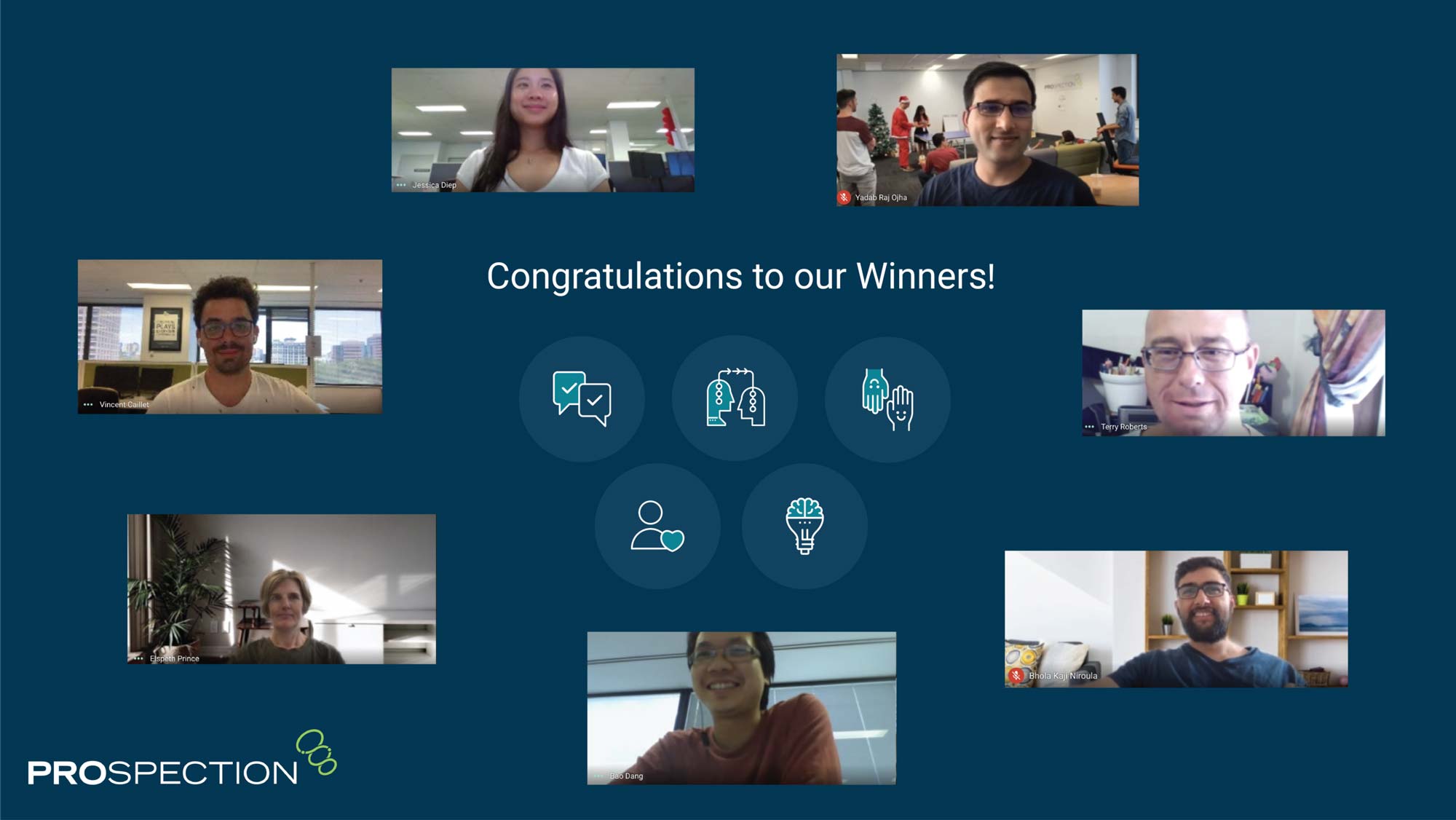 Quarterly Recognition Awards
At Prospection we believe that our values drive our behaviours and they're what make all of us stand out from the crowd.

This week we celebrated the incredible contributions from our whole Prospection team. Throughout 2020, we not only adapted to the challenges of the pandemic, we thrived! Prospection adapted to a flexible work environment within days, leaving time to focus on our vision to help improve outcomes for patients across the world. With the health & pharma industry demanding better, more timely access to data insights to enable more responsive decision making. We delivered in Australia with monthly patient data and engaged new data partners both in Australia and overseas.
We launched Internationally and established offices in Japan, building enhanced PharmMap and PharmDash platforms to ingest and integrate new datasets from other countries. Prospection Labs, R&D team built a new capability using ML to analyse patient data to identify and understand cohort outcomes.
It was a busy and successful year made possible by our entire team. Voted by their peers we would like to recognise some exceptional team members who model the Prospection Values with their outstanding contributions. Congratulations to all of our winners and thank you for being such an amazing Prospection team member!
Jan Amoyo | PharmDash Engineering
"Leading project liberty, embracing opportunities and promoting a culture of continuous improvement."
Vincent Caillet | PharmDash Delivery
"Super knowledgeable and has a great vision of how we bring value to our clients."
Scottish Chemjong | PharmDash Delivery
"Always aims to have the right processes in place and tries to do the right thing from an analytics point of view."
Bao Dang | PharmMap Engineering
"Besides bringing great knowledge to the team he also brings the valuable trait of patience."
Jessica Diep | PharmMap Product
"The backbone of MapX product, works hard day and night to make an impactful product."
Bhola Niroula | PharmMap Engineering
"Tireless and exceptional work with Map client support. Always happy to jump on issues with enthusiasm and cheer and resolves them with speed and diligence."
Yadab Raj Ojha | PharmMap Engineering
"Good teamwork in product development, regardless if its a simple or complex problem. Always willing to support new team members to help them get up to speed."
Elspeth Prince | Prospection EA and Office Manager
"Elspeth's professionalism is second to none and she is the 'go to person' for everyone. Incredible patience over the last year keeping us all safe and managing the ever changing working environment."
Terry Roberts | PharmMap Engineering
"Always eager to teach and listen to new ideas. Courageous in tackling new tasks and learn something new"