Prospection has developed into a company that clients can trust to help them achieve success. Our advanced knowledge and expertise in healthcare data analytics supports complex research questions. The experience and expertise of the 3 founders Eric, Ricky and Peter have contributed highly towards the rapid growth and success of Prospection. With their unique set of skills, they are able to help lead the charge into this area of life sciences
Eric Chung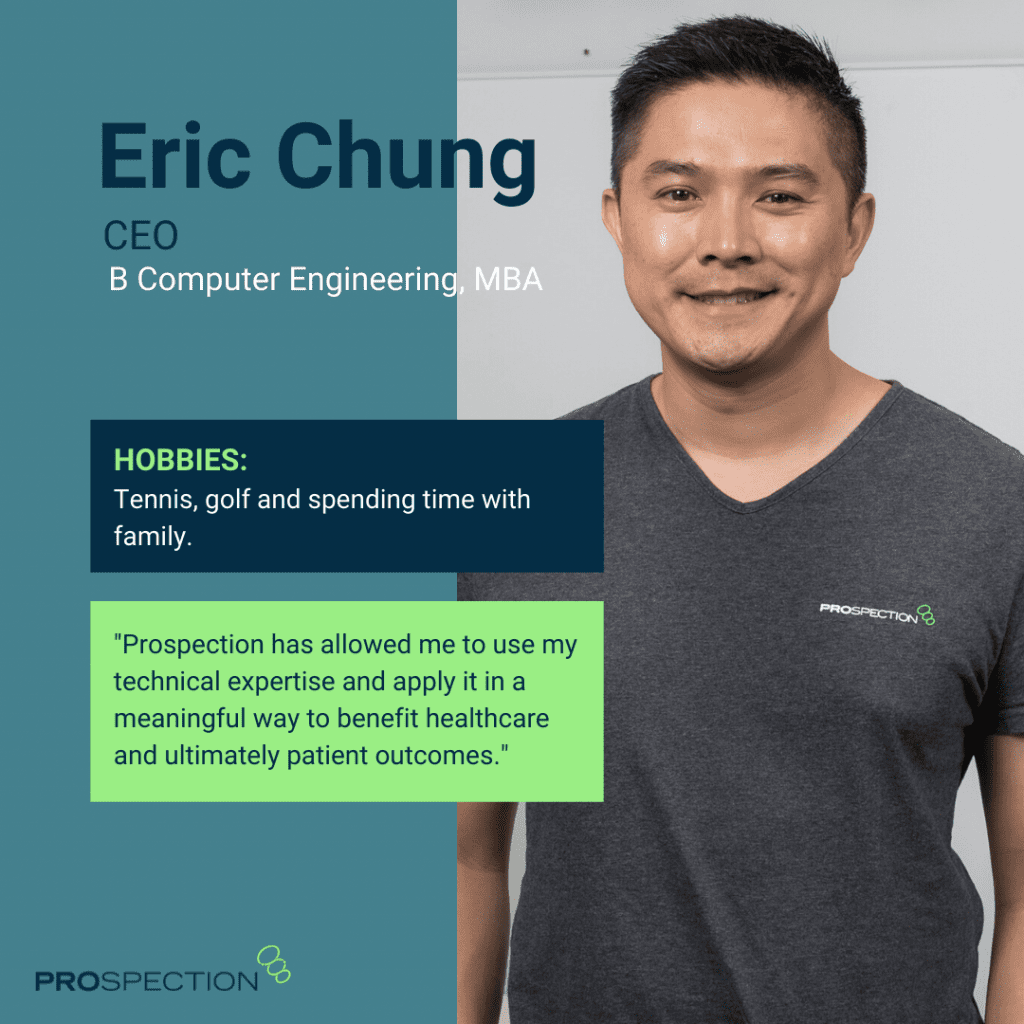 Eric Chung is the CEO of Prospection. Prior to Prospection, Eric completed a Bachelor of Computer Engineering along with Master's in Business Administration. He later served at Accenture working in IT consulting. Eric previously founded a business that created software to track the location of people, vehicles and equipment in underground mines where there was no access to satellites for GPS.
"I once wanted to be a doctor but chose a technical career instead. I love that Prospection has still allowed me to use my technical expertise and apply it to help improve outcomes for patients through better insights and predictive analytics."
Ricky Chen
Ricky is the Director of Engineering at Prospection. Before Prospection, Ricky completed a Bachelor of Software Engineering at UNSW. Shortly after graduating Ricky won the world AI robotics soccer championship with Eric in 2003. Ricky has experience in financial services, healthcare and research.
Peter Cronin
Peter is the Director of Strategic Partnerships and Data at Prospection. His role involves collaborating with government, researchers and healthcare data partners. Prior to Prospection, Peter worked as a medical doctor specialising in ICU and has had a strong interest in the commercial and corporate sector of healthcare.
Putting healthcare data in front of these 3 individuals with their combined skillset, allows them to indulge in their passion. Making a difference to patients and contributing to improvements in medical decision making. This common passion shaped the company vision and values and unites the Prospection team.
Whether it is using healthcare data analytics and multiple data sets to find untreated patients; Predictive analytics and advanced algorithms to identify the best treatment options for patients; Understanding the market dynamics and treatment journey for different patients. Prospections core business focus is ultimately to improve outcomes for patients.