Prospection, has successfully raised $45 million from institutional investors in a Series B round. Corner stoned by new investor Ellerston JAADE with participation from existing shareholders Main Sequence and Horizons Ventures.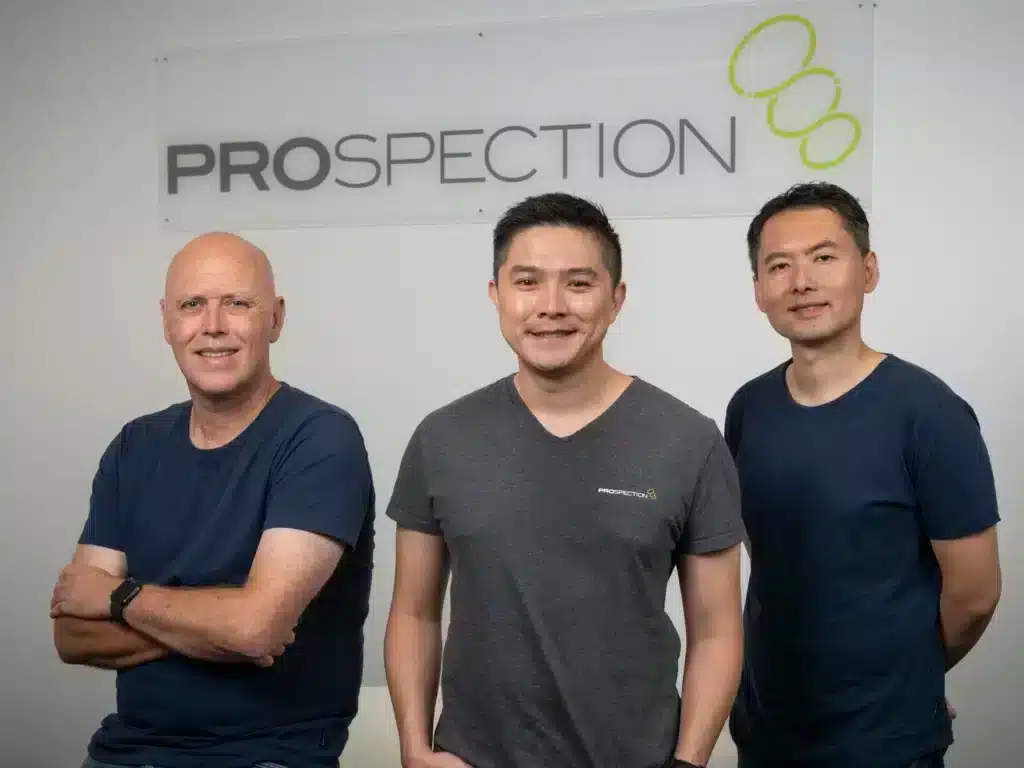 Prospection uses real world data, powering evidence to deliver better patient outcomes. Our powerful AI algorithms follow millions of de-identified patients over time to search for patterns in their health and treatment journey. Uniquely, these algorithms can ingest multiple longitudinal patient and commercial datasets globally from varied sources such as governments, insurers, healthcare providers/institutions and health records, to produce rich and accurate insights at high speed.
These datasets are turned into actionable, medical insights to help determine the best treatment plan for a patient, locate patients who would benefit from improved therapeutic decisions and be written into publishable evidence for scientific journals.
Prospection Inspiration
Prospection was co-founded by three friends, Eric Chung (CEO), Dr Peter Cronin (Head of Data & Partnerships) and Ricky Chen (CTO) who were inspired to stop patients being on suboptimal medicines and even being harmed because they were on the wrong medical treatment.
"Real world data tells us today 10% of patients are on treatments that are harmful and 30% of patients are wasting time or money on a suboptimal treatment. Our insights have the power to change clinical behaviour by helping doctors select the best therapy for an individual patient. This financing gives us the ability to make a bigger impact and act on a global scale. We want to put every patient on the right treatment at the right time," said CEO Eric Chung.

Eric Chung, CEO and Co-founder, Prospection
Prospection has a growing customer-base which includes 36 multinational companies in Australia, New Zealand, Japan, South Korea and China, and has an early presence in the United Kingdom and United States. Its technology is already being used by 17 of the top 20 pharma companies worldwide. In tandem with a growing customer base, annual recurring revenue for its SaaS subscription technology is growing rapidly.
"Recognising the value and impact real world evidence could have for patients very early on, Prospection's co-founders have built a rapidly growing global Australian technology company. We are pleased to be joining them on the journey and are very excited about the growth ahead".

David Leslie, Investment Director, Ellerston JAADE
"A key challenge that Main Sequence aims to solve through its investments is creating more impactful and personalised healthcare. Prospection is a key part of achieving this goal and we're thrilled to continue our support of its journey to enhance patient care and offer healthcare providers tangible insights to determine the best treatment," said Bill Bartee, Managing Partner at Main Sequence.

Bill Bartee, Managing Partner, Main Sequence
Prospections Growth Plans
The new funds will be used to expand Prospection's presence in the large UK and US healthcare markets, as well as build more product capabilities and use cases, including helping healthcare providers with clinical decision support during their patient appointments.
Prospection will invest in the platform to enable even more data sets to be ingested, further strengthening its commercial moat. The growth strategy also includes broadening its existing pharma company customer-base to support healthcare payors (insurance companies, Medicare etc), governments, physicians and patients.
Founded out of Sydney's Cicada Innovations in 2012, Prospection previously raised $10 million via a Series A round in February 2020. Prior to this, Prospection was self-funded.