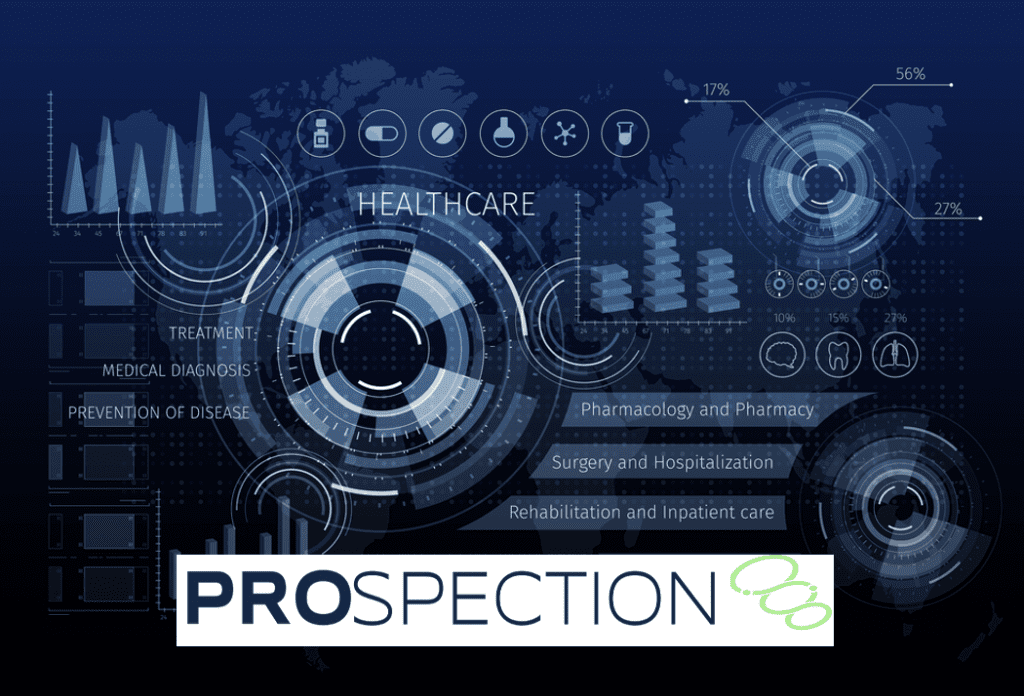 Prospection integrate and analyse a range of data that includes administrative claims data, electronic medical records, hospital and insurance data and other big data sets. The integration and analysis of this data provides real world evidence (RWE) and insights on medication usage and patient characteristics in different diseases. RWE that is used by research institutions, government agencies and pharma companies to inform decisions to improve patient care or disease outcomes. Traditionally in health care, clinical trial evidence has been seen as the gold standard to support the listing of new technologies. With the digitalisation of healthcare, Prospection can use real world data (RWD) to support or compliment clinical trials. Providing additional evidence where it's difficult to design or recruit for clinical trials. RWD provides supporting evidence for diseases with small size populations and rare cancers.
For our commercial pharma clients we integrate their commercial datasets such as ex-factory, in market sales and activity data. Pharma data analyses extract insights, inform new strategies and provide KPI tracking. Providing evidence on how well certain drugs perform against their expectations using real world and commercial data. Publication grade sub-populations analysis within specific diseases aims to determine which treatment provides the better outcome for the cohort.
"We try to turn real world data into real world evidence such that it can add value across the health sector." Says Peter Cronin (Prospection's Head of Data and Partnerships)
Health data value
Good quality, comprehensive health data is a fundamental component to informed health decisions and medical innovation. Data is an essential ingredient to improving health outcomes, medication access, clinical and pharma strategy. Digital health technology and health data science is a growing contributor to the health sector and the economy. Prospection is excited to be a contributor to this industry, making a difference to how patients are treated and supporting evidence based decision making for the clinical community. With the rapid advances of medical innovation toward personalised therapy and pharma companies aiming for more efficient drug development and speed to market, RWE and health data science is playing a more pivotal role. Analysing, evaluating, monitoring and tracking utilisation, value and outcomes through health data is essential to the health system.
"If we look at real world data sets often, we can gain additional and important insights into broader use of medicines, by a broader range of patients, and get better insights on the safety and value of medicines." Said Peter

"Prospection acts as a trusted third party where we have capabilities in data management, data analytics and data governance. We work with data holders enabling the use of data in an appropriate way. Researchers, gain insights that they may not otherwise gain because they don't have the capabilities or the data access."

How does RWE add value?
RWE adds useful information to enable more informed, evidence-based decision-making. Across all stakeholders including patients, physicians, regulators, payers and pharma companies.
RWE builds a more comprehensive picture of real-world populations and treatment use. Allowing payers and regulators to understand therapy effectiveness and safety in a larger pool of patients, for a longer period of time.
Real world evidence benefits the community, enabling more informed decision making at the individual patient level.
Right Patient Right Treatment
One of Prospection's goals is being able to bring a technology and capability build within Australia and the international health sector. Making health data more available and more useful to a wide variety of stakeholders (government, pharma companies, clinicians, researchers) across the sector contributes to putting the right patient on the right treatment.
"For a long time, it has been recognised that there is value in healthcare data sets. We would say better data, leads to better evidence, leads to better decisions, leads to better outcomes for patients." Said Peter.
Through the recent investment by Main Sequence and Horizons Ventures, Prospection is now exporting capability and earning export revenue as we continue to expand into Asia-Pacific and beyond. Prospection is an increasing contributor to the digital health ecosystem and rapidly growing as a major employer within the sector.
Prospection is an example of how Australia can leverage its great research and health system expertise to build great digital health companies and become a world leader in the sector.