PharmDash is a real-world evidence platform that delivers insights into the use, value, and outcomes of different medications across all disease areas. Initially designed to work with the Australian Pharmaceutical Benefits Scheme (PBS) longitudinal patient data. Now, it has the functionality to ingest and analyse many other patient data sets, covering other health systems and geographies.
Leveraging technology, PharmDash analyses longitudinal health data to create customised reports. Insights for how patients are treated in any therapy area. PharmDash has a long history working with diseases like prostate, lung, breast and blood cancers. The longitudinal focus is effective in chronic diseases such as diabetes, respiratory and cardiovascular disease. Each report has complex algorithms that allow the user to gain insights at the click of a button. Users can understand multiple aspects of the therapeutic market:
What the different patient journey's looks like? Is there a typical patient journey?
Quantify the treatment algorithm and understand

How many patients are in the market?
What are the different treatment interventions and number of patients treated?
How do patients flow between lines of treatment?
How long do patients stay on each drug treatment?
Quantify the treated incidence and prevalence?

Understand the dynamics in the market via initiations and switching.
PharmDash Team
Working with patient level data on a day to day basis, the team have a complement of skills ranging across datascience, technology and user experience. Building a tool to help understand the health landscape, while ensuring the highest standards of data security and privacy. Heading the team as Director of PharmDash, Phillip Lee, is excited about how the product supports decision making to improve treatment outcomes.
"We can look at what medicines or other treatments patients are taking, how adherent they are to the medication treatment plan, and even look at the different outcome's patients have in the journey for their treatment and compare these outcomes." Said Philip.
The PharmDash team focus on key areas to provide insights into the market dynamics for a therapy area, showing treatments across a specific disease or illness and how co-medications, regimens and patients switching across different treatments affects their overall well-being and their outcome.
"Our patient data can be broken down across demographic and prescriber types. It's possible to do deep-dive analysis into how different ages, genders and even geographies are approaching treatment for different areas and compare patient outcomes." Said Philip.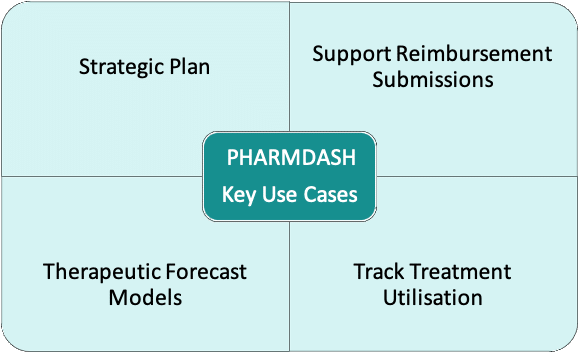 Insight Generation
"The value of real patient data cannot be understated. By giving our clients insight into real world data, it takes patient treatment and outcomes out of the theoretical clinical setting and shows the impact their treatments have on real people." Philip said.
PharmDash supports life sciences companies, government and research organisations. Insights are provided into how medicines and other healthcare interventions are used. Able to ingest different types of longitudinal data sets PharmDash can work with the varied health care data systems in different countries. The platform allows Prospection to compare different treatments across different countries to provide insights in the treatment of patients globally.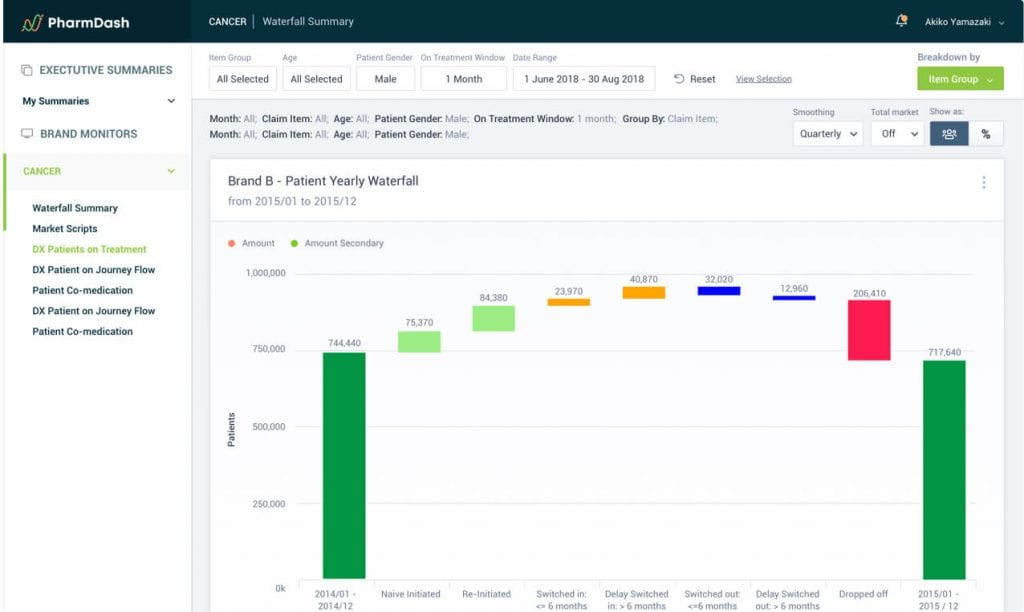 Product Managers, Julie and Marjorie, are enthusiastic about how PharmDash can be applied on a global scale to improve the patient journey.
"We can get to the point where we can analyse enough patients across enough data sets that we can give really good insights into real world outcomes." Said Julie.
Conclusion
PharmDash is a platform that has contributed to the growth, development and success of Prospection. The platforms ability to ingest real world data from any data source provides Prospection with the information they need to help put the right patient on the right treatment.
"Our team is looking at the future of medicines and what insights will be needed to support this going forward. Using machine learning to analyse billions of data points to help optimise decision support models for healthcare professionals and their patients world-wide. This is just the beginning of our journey to help ensure the right patients are on the right treatments at the right time." Said Philip.